Conversion projects during ongoing operations always present a major organizational challenge in addition to the technical ones. Under the sign of the pandemic, the challenge was once again much higher this year.
We are therefore particularly pleased that we were able to successfully complete the upgrading of the fluidized bed plant at Norske Skog in Bruck, a project from our Energy & Environment business area, on schedule despite the more difficult conditions.
The project started in February 2020 and ramp-up and commissioning occurred in November 2020. In December, the "As Built" documentation was handed over.
Prior to the project, a concept was developed to make the 25-year-old fluidized bed furnace fit for the next few years. The defined goal was, above all, reliable compliance with the legally tightened emission limits.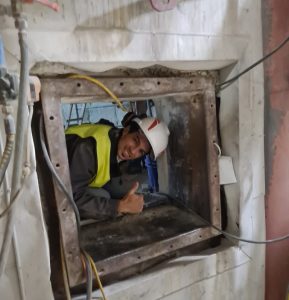 After our calculations we came to the conclusion to retrofit a SNCR system and a flue gas recirculation system with air preheating as well as to modernize the fuel conveying system in order to massively reduce the emission levels. In the process, the fuel input was also converted from spreader feeding to feeding by means of a chute.
Since the plans were not digitally available, the boiler house and all relevant areas were captured in a point cloud with a 3D scanner. This was the basis for planning all further steps. Due to our extensive experience in the field of energy and process engineering, it was possible to plan and also implement the project within this short time. The total construction phase was only 6 weeks. The boiler shutdown was limited to a maximum of two weeks.
As with every project, there were one or two unplanned challenges which we were able to overcome thanks to solid project planning and a great deal of personal commitment on the part of the highly motivated project team.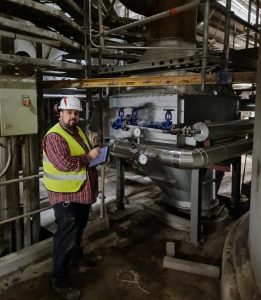 The excellent and constructive cooperation with our client must also be mentioned. After this intensive and busy period, we are happy to hand over to our customer a plant that meets the project goals and also gives the plant operators, after our training and the first practical experience, a safe and good feeling.
Werner Wipp, Project Manager